Well, it's been a funny old year hasn't it? Funny-weird, more than funny-haha, perhaps…
But there are several pieces of data which show how things have stayed positive for home-owners in our fair city.
First, our own data, showing the number of instructions we took on over the last three completed months – September to November – was 19.7% higher than the same months last year (see graph below).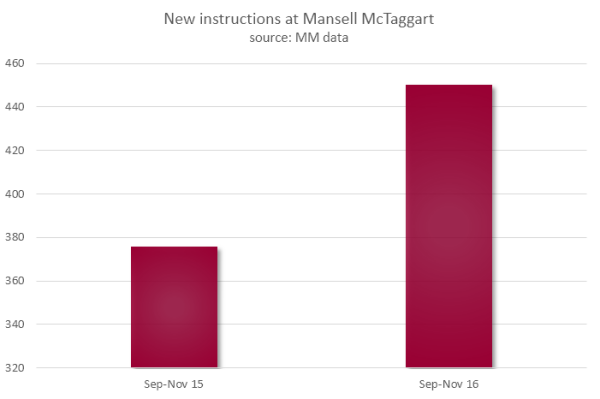 The second is how the latest data from Land Registry shows that house prices in Reigate & Banstead have increased by an average of 9.4% (see graph below).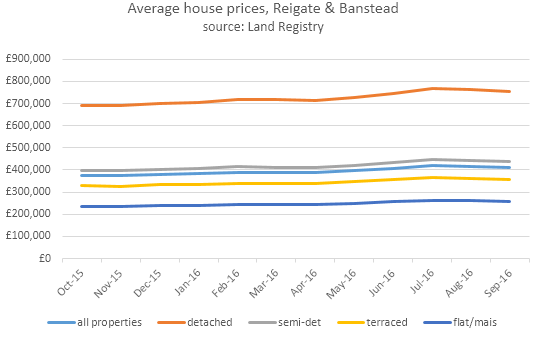 The rise has been steady across all property types, with semi-detached houses rising by 10.2%, on average across the county.
More interesting is how the gentle rise in prices didn't' stutter after the Brexit vote, as some had predicted.

Land Registry data is the most reliable of the data sets as it reflects 'prices actually paid' rather than asking prices – although it does lag three months behind, meaning September is the latest available data.

The third interesting data shows that the number of transactions rose in the months following the EU-vote (see graph below).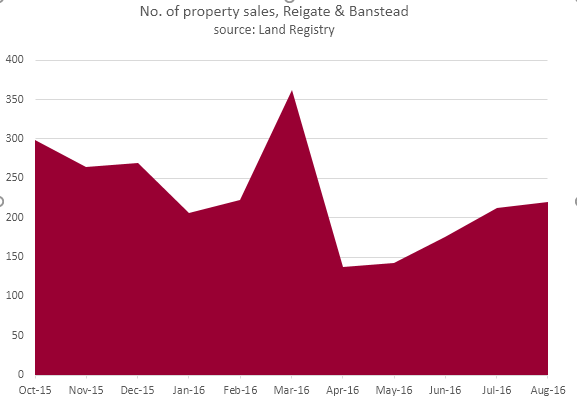 March saw a huge up-surge in transactions with people rushing to buy second-homes and investment-homes before the hike in stamp duty for these types of property in April. April and May then saw the predictable slump to offset March's surge, but since then transaction numbers have started to rise.
It will be interesting to see if this trend continues beyond July, which is the latest available data as we write this.
Of course making predictions for 2017 is extremely hard – wouldn't it be interesting to see what people were saying this time last year?!
However, whatever next year throws at us, if we're still able to report positive figures after this year's tumult, next year should be a breeze. Shouldn't it…?
Have a great Christmas and new year.